Agave on Fire: A Mezcal Affair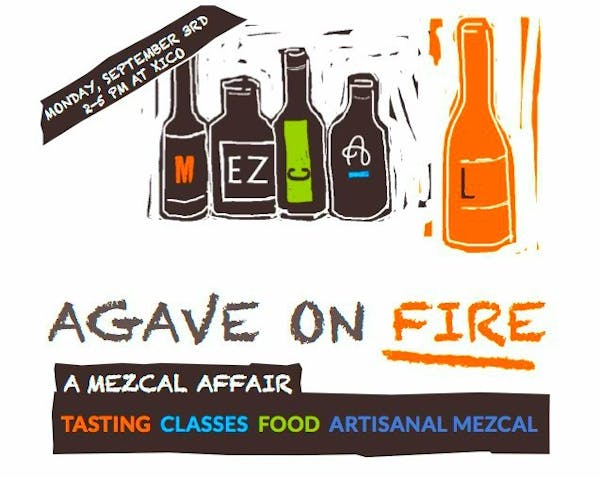 We hope you'll join us for Agave On Fire: A Mezcal Affair; 2 days of Mezcal-centric eating and drinking events!
Buy Tickets to Agave On Fire Events Here!

Mezcal is varietal and terroir driven, just like wine, but few outside of Oaxaca have the opportunity to taste its diversity in one place at one time, and in Oregon we're especially deprived of Mezcal because of our state run liquor laws.

But, on September 3rd Xico will welcome 10 boutique producers of artisanal Mezcal, and host a series of super fun, educational events in honor of the ultra craft spirit!

The Kick Off Dinner with Guest Chef Pilar Cabrera of La Olla!
Sunday, September 2nd at 6:30pm

Renowned chef and culinary instructor Pilar Cabrera, chef/owner of La Olla in Oaxaca City, will join Xico sous chefs Kelly Towner & Jordan Cassel in serving 4 courses on the Xico patio.

There will be ceviche, a signature mole, Bichi wines from Baja, and Mezcal pairings from five brands whose reps and owners will drop knowledge during dinner.

The Tasting Show
Monday, September 3rd 2-5pm

You might've noticed that Mezcal is getting hip! This is your chance to delve in and experience what makes this spirit unique, traditional and progressive at once.

Come to taste more than 40 bottles of artisanal Mezcal from 10 producers!

Tasting booths for Wahaka, Vago, Sombra, Leyenda, Amaras, Del Maguey, Real Minero, Rey Campero, Peloton de Muerte and Uruapan Charanda run by representatives for each brand, will offer pours and intimate details about each bottle.

The tasting show is at Xico.

The Food and Libations

Food booths featuring small dishes by Xico, Langbaan and Nostrana will be for sale for $4-7, because Mezcal goes with everything, not just Mexican food!

Mezcal Cocktails by Xico and Deadshot will be for sale for sipping!

The Classes

Taught by experts on agave and Mezcal, concurrent educational classes about Mezcal will be offered in the Xico event space.

Subject matter will range from agave diversity to cutting edge production methods to a virtual tour of a Mezcal palenque in San Dionisio Ocotopec. Check out the schedule below!
2:00-2:30 Amores Philosophy and Our Agaves with Sofia Acosta
2:35-3:05 The Families of Del Maguey: The People Behind Our Mezcal with Lucia Creed
3:10-3:40 Agave Diversity with Danny Mena
3:45-4:15 Sustainability Practices at Sombra with Eleana Nuñez
4:20-5:00 A Virtual Tour of Wahaka's Palenque with Eduardo Belaunzarán

The After Party at Teote Mezcaleria
Monday, September 3rd 5:30-8:30pm

Teote Mezcaleria will host an after party at their new, beautiful Mezcal bar on Alberta street, and rides from Xico to Teote will be offered by Lyft at a 25% discount!

Buy Tickets to Agave On Fire Events Here!

$25 Tasting Ticket: Admission to AOF and tasting of all the Mezcals

$40 Tasting Ticket + 1 Class: Taste + attend any 1 AOF class

$50 Tasting Ticket + 2 Classes: Taste + attend any 2 AOF classes

$57 Tasting Ticket + 3 Classes: Taste and attend any 3 AOF classes

$63 Tasting Ticket + All Classes: Taste and attend all 4 classes

$125 Kick Off Dinner Ticket includes gratuity

$150 The Hot Ticket All Access Pass includes Kick Off Dinner & Gratuity, Tasting Ticket, and Admission to all Classes